Celebrating Our 99th Anniversary 1918-2017.
On The National Register of Historic Places
Day Sails and Charters on the Schooner Surprise in Camden Maine
Join us for a two hour daysail on the elegant Schooner Surprise out of Camden, Maine. We sail around the magnificent Penobscot Bay. On our Camden day cruises we will see lighthouses, wildlife, private yachts and summer estates. We offer Sunset sails, Tuesday night Sunset sails with live music, Full moon sails and Fireworks sails. We sail 7 days a week from mid May to mid October. Get involved and help raise sails or steer the boat, we are great with kids! Come and join us for a cruise on board the most famous windjammer in Maine. We offer environmentally friendly boat tours. We have limited amount of passengers with cushioned seating for all. Come sail the Maine Coast with us.
Join us for your Camden Maine Charter on the Schooner Surprise. Special events, weddings, birthdays, family reunions, anniversaries and corporate  events. Two hour, half day and full day cruises on the beautiful coast of Maine. Have us cater your Camden cruise and serve exquisite appetizers on a sunset sail or a lobster lunch. Our Maine windjammer cruises will give you an unparalleled view of Camden Hills. We have been highly rated tour operators in Camden Maine for 31 years. Rated #1 on Trip Advisor!! Book your Camden Charters with us.
Crew:
Nicole and Ramiro met 20 years ago while sailing in Key West, Florida. They were married on top of Mt. Battie in Camden, Maine. Then they set sail working on several charter and private sailing yachts in Maine and the Caribbean; dreaming of the day when they would own their own boat.
After 9 more exciting years together, they returned to Camden to start a family. Their daughter, Delfina, was born and four years later, they added their furry friend Lucy to the family.
Their dream of owning a boat and working together as a family has come true. This is their fourth year owning the Schooner Surprise. Nicole and Ramiro are thrilled to carry on the tradition of sailing the Surprise in Penobscot Bay. They look forward to showing you what they love about Camden Maine and why they love being out on the water.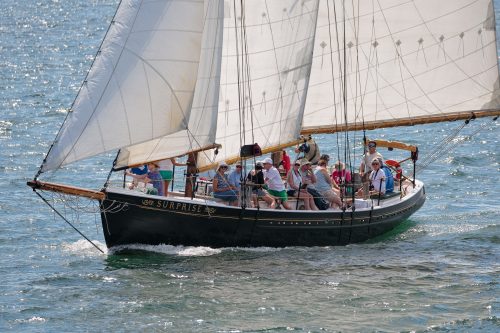 We are looking forward to the excellent forecast for the coming weeks for sailing on Penobscot Bay. We are now offering daysails and sunsets sails for two hours seven days a week on both Schooner Surprise and Sloop Anjacaa. Both boats are also available for charter so if you are planning a birthday party, anniversary, family reunion, or corporate event let us help you make it a special day to remember on board! We also offer catering and specialized menus. People often ask why the Surprise? We offer cushioned seating for all on board, a limited number of passengers allows our guests a more intimate and comfortable ride. Our schooner is also on the National Register of Historic Places and carries a fascinating history. What about Anjacaa? Anjacaa is great for small parties looking for a more private ride. She carries a maximum of six guests, and is good for couples looking for more space and fewer passengers on board. Anjacaa is also great for those looking for speed, she is swift in the water and great in both light winds and strong breezes. We have lots of special events happening this summer aboard both boats including full moon sails, sunset sails with live music and dessert, fireworks sails, race weekend on Anjacaa, Windjammer parade of sail in Rockland. Check out our special events page on our websites, and join us for a sail this summer!
Contact Us:
Schooner Surprise
Ramiro and Nicole de Acevedo Ramos
207.236.4687
1 Bay View street Camden, ME 04843
sail@schoonersurprise.com


Check out our sister ship Sloop Anjacaa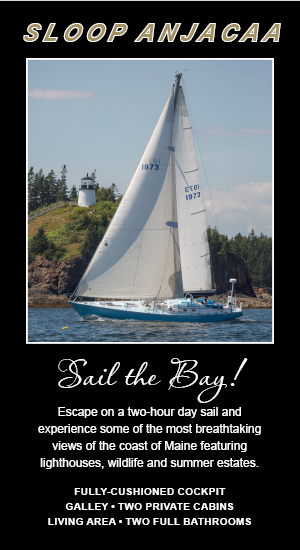 SPECIAL EVENTS
September 6th- Full moon sail. Watch the sunset behind Camden Hills and the moonrise over Penobscot Bay. 5:15-7:15. $45 per person. BYOB
October 6th- Full moon sail. Watch the sunset over the Camden Hills and the moonrise over Penobscot Bay. 5:30-7:30. $45 per person. BYOB