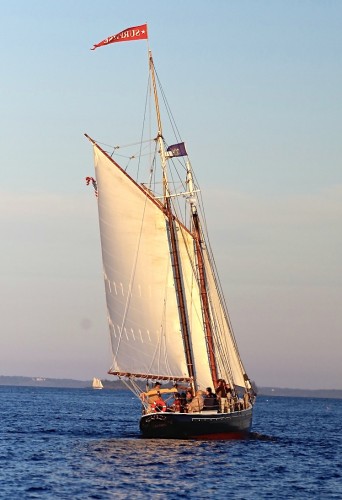 SUMMER
(July 1  to Sept. 15)
We leave the dock at:
10:00am, 12:30pm, 3pm, 5:15pm (sunset sail)

SPRING and FALL
(May to June and Sep 16 to Oct 15)
We leave the dock at
10:30am, 1:00pm, 3:30pm, 5:30pm 
SPECIAL EVENTS:
September 4th- Fireworks over Camden Harbor! Friday 7:15-9:15 $45 per person
Windjammer Weekend September 4-6! Join us for one of our sails among the many Windjammers in Camden for this special event.
Come watch the Windjammers sail into Camden Harbor and sail among the fleet Friday, September 4th on our 12:30 and 3:00pm sails.
Join us for the parade of sail through Camden Harbor Sunday, September 6th 3:00pm.
Full moon sail Sunday, September 27th 5:30-7:30 watch the sun go down over the Camden Hills and the moonrise over Penobscot Bay.
See us under the orange umbrella at the Public Landing or call us.
207-236-4687
sail@schoonersurprise.com
Please review cancellation policy at About Surprise FAQ's