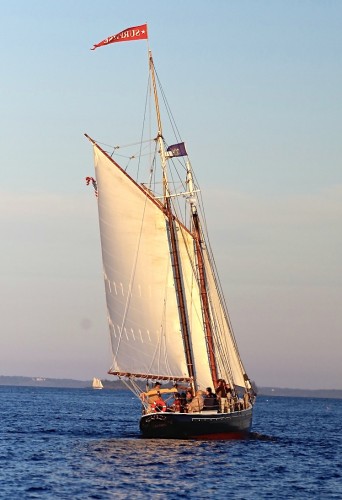 SUMMER
(July 1 to Sept. 15)
We leave the dock at:
10:00am, 12:30pm, 3pm, 5:15pm, 7:15 (sunset sail)

SPRING and FALL
(May to June and Sep 16 to Oct 22nd)
We leave the dock at
10:30am, 1:00pm, 3:30pm, 5:30, 7:30 (sunset in June)
See us under the green umbrella at the Public Landing or call us.
207-236-4687
sail@schoonersurprise.com
Please review cancellation policy at About Surprise FAQ's
SPECIAL EVENTS
July 11th- Sunset sail with live acoustic music and homemade dessert. 7:15-9:15 $60 adults $50 kids BYOB
July 13th- Join us for the Windjammer parade of sail a half day sail to join the windjammer fleet in Rockland as we parade around the breakwater. Excellent photo op! Lobster roll lunch or chicken salad included. $100 12:15-5:00pm.
July 18th- Sunset sail with live music and homemade desserts. 7:15-9:15 $60 adults $50 kids BYOB
July 25th- Sunset sail with live music and homemade desserts. 7:15-9:15 $60 adults $50 kids BYOB
July 27th- Full moon sail with live music and homemade dessert. 7:15-9:15 $60 BYOB
August 1st- Sunset sail with live music and homemade dessert. 7:15-9:15 $60 adults $50 kids
August 8th- Sunset sail with live music and homemade dessert. 7:15-9:15 $60 adults $50 kids
August 15th- Sunset sail with live music and homemade dessert. 5:15-7:15 $60 adults $50 kids
August 22nd- Sunset sail with live music and homemade dessert. 5:15-7:15 $60 adults $50 kids
August 26th- Full moon sail with live music and dessert. 7:15-9:15 $60
August 29th- Sunset sail with live music and homemade dessert 5:15-7:15 $60 adults $50 kids
August 31st- Camden Windjammer Festival sail in with the windjammers. 12:30-2:30 and 3:00-5:00 $43
August 31st- Fireworks sail for Windjammer Weekend 7:15-9:15 $50
September 24th- Full moon sail. 5:30-7:30 $50